¡¡¡¡Before browsing, please download and install the Comic Reader(QJReader) software.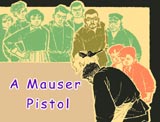 A Mauser Pistol



Der Besuch der alten Dame
Pictured by Ye Jiabin

Resurrection (I)
Pictured by Hu Keli,Yun Nanping

Qing Niang
Pictured by Chen Huiguan

Lenin in the October Revolution
Pictured by Gu Bingxin

Immortals Island
Pictured by Zhang Wei

Lotus Lantern
Pictured by Ren Shuaiying


¡¡¡¡¡õYoung Chinese generations' art works. The teenage authors learned a great deal from the west, and integrated the western drawing skills and styles with Chinese traditional drawing skills.
| | | | |
| --- | --- | --- | --- |
| Alme | Man and Dog | Lovely Gal | I'm Flying |
| | | | |


Feel Nervous and Uneasy
The original Chinese idiom:
"Mang2 Ci4 Zai4 Bei4": "mang ci", sting; "zai", on or in; "bei", back. It means feeling uneasy and like having stings in the back.