¡¡¡¡Before browsing, please download and install the Comic Reader(QJReader) software.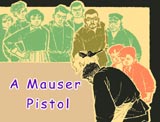 A Mauser Pistol



A Rock Called Qing Xu Tian
Pictured by Ye Yuzhong

Bronze Bird
Pictured by Zheng Jiasheng

The Jade Spring
Pictured by Gu Bingxin

A Good Deed
Pictured by Gao Baosheng

Monk Hsuan-Tsang
Pictured by Yang Qinghua,Li Tiesheng

In the Nightclub
Pictured by Yang Yilin


¡¡¡¡¡õYoung Chinese generations' art works. The teenage authors learned a great deal from the west, and integrated the western drawing skills and styles with Chinese traditional drawing skills.
| | | | |
| --- | --- | --- | --- |
| Sword | Vision | Green Ruyi(Symbol of Luck) | Clear |
| | | | |

Exert Oneself to Make the Country Prosperous
The original Chinese idiom:
"Li4 Jing1 Tu2 Zhi4": "li", hearten; "jing", spirit; "tu", in order to; "zhi", reign (the country).