¡¡¡¡Before browsing, please download and install the Comic Reader(QJReader) software.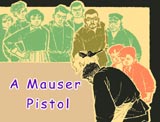 A Mauser Pistol



A Small Mirror
Pictured by Lu Wen

The Foxes in Laoshan Mountains
Pictured by Pu Huihua

Ghost's Three Magics
Pictured by Zhao Hongben

Stone Cup
Pictured by Chen Yanfan

Resurrection (II)
Pictured by Hu Keli,Yun Nanping

Bela
Pictured by Yu Xiaofu


¡¡¡¡¡õYoung Chinese generations' art works. The teenage authors learned a great deal from the west, and integrated the western drawing skills and styles with Chinese traditional drawing skills.
| | | | |
| --- | --- | --- | --- |
| Lonely | Israeli's Pets | Cup in the Hand | Young Girls |
| | | | |


A Treaty Signed under Coercion
The original Chinese idiom:
"Cheng2 Xia4 Zhi1 Meng2": "cheng", city or town; "xia", under; "meng", treaty.